Francesca Battistelli He Knows My Name Sheet Music dives into a song of identity and divine acknowledgment. Battistelli's heartfelt lyrics convey a simple yet profound truth: we're known by the Creator.
The Song's Theme: A Personal Connection
Delving into the song, it becomes clear that its essence revolves around feeling valued and recognized by God.
Battistelli beautifully captures the realization that fame and human acknowledgment are fleeting compared to God's eternal love.
Tone and Musicality: Simplicity Meets Depth
The song, while uncomplicated in its arrangement, resonates deeply. The chord progressions, particularly when translated to piano, elevate the song's emotive quality.
These qualities make the Francesca Battistelli "He Knows My Name" Sheet Music especially touching for pianists.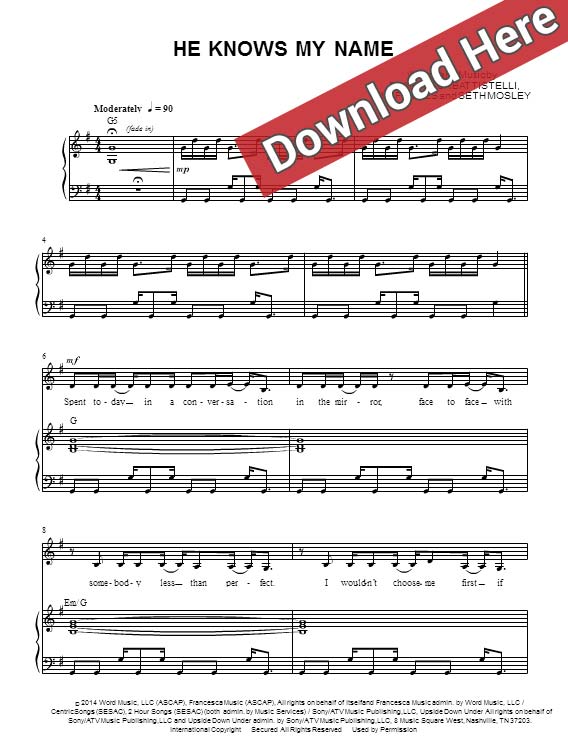 Song Structure and Piano Relevance
Commencing with a soft piano introduction, the song gradually builds, both lyrically and musically. As a professional piano teacher, I appreciate the song's balanced structure.
Its verses establish the narrative, while the chorus offers a powerful affirmation of the song's core message.
Place in Contemporary Music Scene
Though it hasn't topped the Billboard Hot 100, "He Knows My Name" has found significant success within the Christian music charts.
Its universal message of love and acceptance ensures its place among contemporary Christian classics.
Lyric Analysis: Depth in Simplicity
Lyrically, Battistelli emphasizes the importance of being known by God over human accolades.
Lines such as "I don't need my name in lights, I'm famous in my Father's eyes" epitomize the song's message, which resonates with many.
A Timeless Piece for Pianists
The Francesca Battistelli He Knows My Name Sheet Music is more than just notes on a page.
It's an opportunity for pianists to connect with and convey a message of divine love and recognition.