Presenting "Someone Like You" by famous British singer and songwriter Adele which you can download and start playing on your instrument.
Adele is one of the most famous singers and songwriters these days. Her songs like Hometown Glory, Chasing Pavements, Turning Tables, Skyfall, Set Fire to The Rain and many more have conquered and taken the world of music by surprise. It's funny because in one of the music stores in Dublin, Ireland it even happened that the customers were requesting Adele's Someone Like You so many times and so frequently that the employees of the store made up a sign and told the visitors to play Adele no more.
Adele Someone Like You Sheet Music


'Someone Like You' score is an 8-page sheet written by Daniel Wilson and Adele Adkins in A Major. The song has been transposed into +1 Bb Major (2 flats), +3 C Major, +5 D Major (2 sharps), +6 Eb Major (3 flats), +8 F Major (1 flat), +10 G Major (1 sharp), -1 Ab Major (4 flats).
Then sheets were initially written for piano but later on transcribed for Guitar, Backup Vocals and Vocals in range of E3 to E5. You can see the preview of the sheet music right here.
Preview of 'Someone Like You' Sheet Music for Piano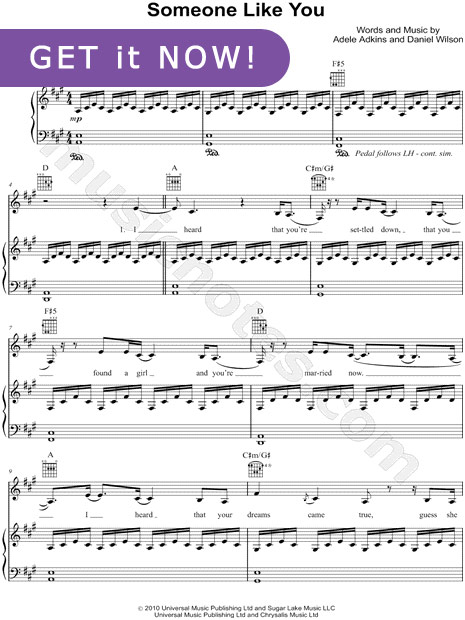 How to Play 'Someone Like You' on Piano Fast
Adele – Pictorial and Images