Presenting Bruno Mars Locked Out of Heaven sheet music for digital download. But let's first say a few words about this great songwriter, musician and singer/entertainer.
Peter Gene Hernandez was born in 1985 and was raised in Hawaii. Since he was a kid he sung and tried to entertain everyone that went through his parents house. Even at early age he knew he wanted to be the center of attention as a musician. That's why he moved to the Mainland to Los Angeles, California to chase his dreams of becoming a known musician.
Mars wrote hits like 'Grenade', 'Billionaire', 'Just The Way You Are', 'Runaway Baby', 'The Lazy Song', 'Count on Me', 'Marry You' and many more.
Locked Out of Heaven Sheet Music
This is a main single from Bruno Mars' new album that was released on October 1, 2012 (just prior to singers birthday). Released under Atlantic and Elektra labels 'Locked Out of Heaven' sure is one of the most popular songs in the music industry in late 2012 besides Adele's reign with 'Someone Like You' and 'Skyfall'.
The song was written by Jefrey Bhasker, Emile Haynie, Phil Lawrence, Ari Levine, Mark Ronson and of course Bruno Mars. This is a 9-page notation that was conducted in the Key of D Minor. It has been transposed into several other keys like -7 G Minor, -8 F# Minor, -10 E Minor, -2 C Minor, -3 B Minor and -5 A Minor just to name a few.
Initially written for Piano it has also been transcribed for Backup Vocals and Vocals in range of A4 to C6. The tempo of the song is moderately fast with 144 beats per minute. However, the sheet music is not that hard to learn even for a beginner piano player. Sure you will enjoy learning the piano notes and start playing real soon.
'Locked Out of Heaven' Sheet Music and Piano Score
Bruno Mars Pictures and Images
'Locked Out of Heaven' Live Performance by Bruno Mars and Band
Piano Notes, Chords, Sheet Music Preview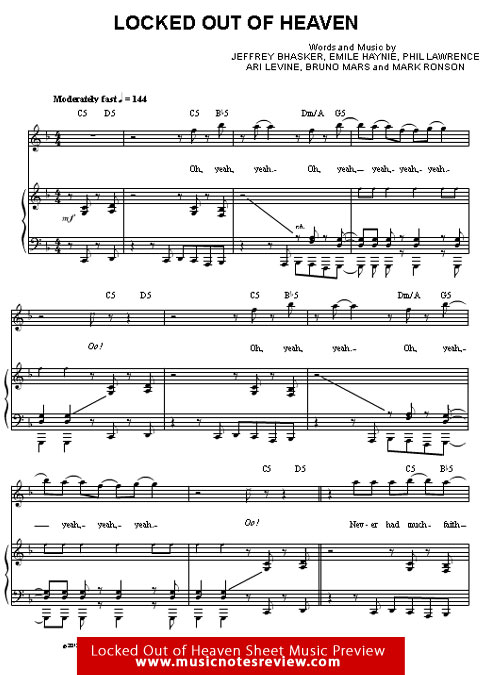 Click here to download the notes!
How to play Bruno Mars – Locked out of Heaven on piano tutorial
Dowload Piano Score and Notes