Rihanna, a Barbadian has been on top charts with her songs for years now. And 'Diamonds' sheet music has been one of the best selling digital products online since the song was released on September 27, 2012.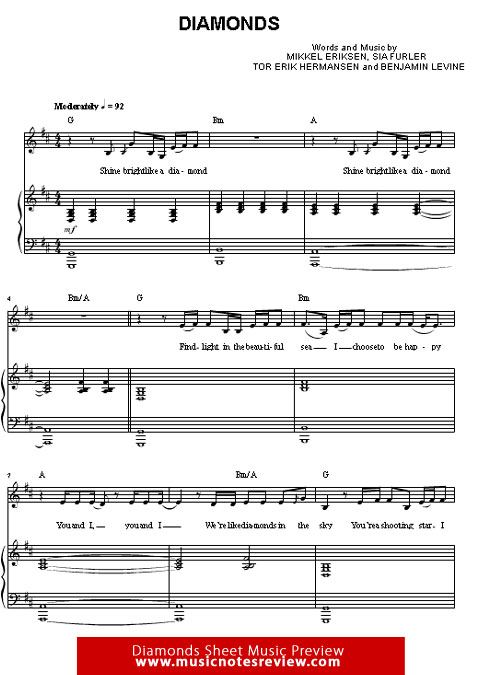 Rihanna is a young singer and songwriter from Barbados. She was born on February 20, 1988 from Saint Michael. She is a talanted musician and actress as well. Not many know that she left her home country to persue music career when she was only 16 years old. Rihanna auditioned Jay-Z and was later on signed with Def Jam Recordings which ment her career started booming in the States and as a result in the world as well. 'Diamonds' is the main single from singers seventh studio album.
Diamonds Sheet Music and Piano Notes
Originaly published Key of the song is B Minor, however the song had been transposed into +8 G Minor, +7 F# Minor, +5 E Minor, +3 D Minor, +1 C Minor and -2 A Minor. Words and Music were written by Benjamin Levine, Tor Erik Hermansen, Sia Furler and Mikkel Eriksen. Initially made for Piano, it is also transcribed for Vocals in range of F#3 to F#5.
How to play Diamonds by Rihanna on piano
Singers Pictures and Images