Maroon 5 has been one of the most successful bands in the past 10 years and their hit One More Night has been seeling sheet music music like crazy online.
This is an American band which can be classified as a pop/rock. The boys are from Los Angeles, California on the West Coast which is considered as a capital of music industry in the States, for some even in the world. Adam Levine has been the lead singer since their start back while the guys were in High School. You might remember him from Moves Like Jagger which is yet another hit song sung with Christina Aguilera and was a major success in 2011.
One More Night Sheet Music and Chords
Written by Max Martin, Johan Schuster and already mentioned lead singer Adam Levine. This is a 7-page piano music notes that has been initially written in the Key of F Minor but also transposed into -10 G Minor, -11 F# Minor, -1 E Minor, -3 D Minor, -5 C Minor, -6 B Minor and -8 A Minor. The sheets and notes are transcribed for Voice in range of F4 to C6, Piano and Guitar. One More Night notation has a beat of "moderate Regae groove" and can be tought relatively easy even to the beginner musician.
'One More Night' Sheet Music for Piano
Maroon 5 Pictures and Images
Live Performance by Maroon 5 Band
'One More Night' Piano Music Note Preview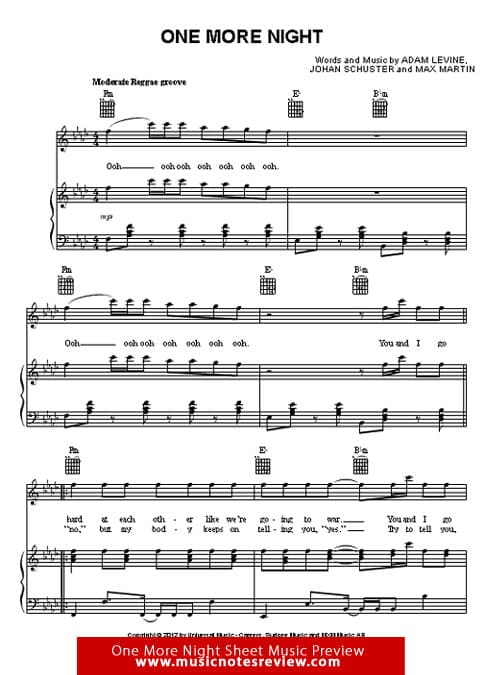 One More Night- Piano Lesson- Maroon 5