Presenting Maroon 5 Daylight Sheet Music and chords you can download for your instrument.
About the Band
Not many people know that Maroon 5 has been around since 1989. The band wasn't called Maroon 5 at the beginning but Kara's Flowers. A few years band re-named and became known as Maroon 5. Probably the most iconic figure in the band is their lead singer Adam Levine. This talented singer and songwriter can be found and is featured on many different tracks by artist such as Eminem, 50 Cent, Christina Aguilera, K'annan, Natasha Bedingfield, Kanye West and many more. Other members of the band are Mickey Madden, Jesse Carmicheal, Ryan Dusick, James Valentine.
How to Play 'Daylight' on Piano
About 'Daylight'
Daylight is Maroon 5's newest single from their brand new studio album called 'Overexposed'. It was released on November 27, 2012 as a digital product and is a part of their Overexposed Tour. It was produced by Adam Levine, MdL & Max Martin. It is yet so see critics even though so far many people like it and predict high positions on charts all over the world. The length of the song is 3 minutes and 46 seconds and is considered as a soft rock / Pop. It was recorded at Conway Studios in Los Angeles, California.
Get Digital Music Notes
Daylight Sheet Music and Chords
It is a 7-page notation that was written by Adam Levine, Mason Levy, Max and Sam Marin. It can be downloaded and played for Piano, Guitar and also Vocals in the range of B3 to A5. It is written in the Key of D Major but also transposed into -5 A Major, -7 G Major, -4 Bb Major, +3 F Major, -2 C Major, +1 Eb Major. The tempo and rhythm is
Piano Notes Preview by Maroon 5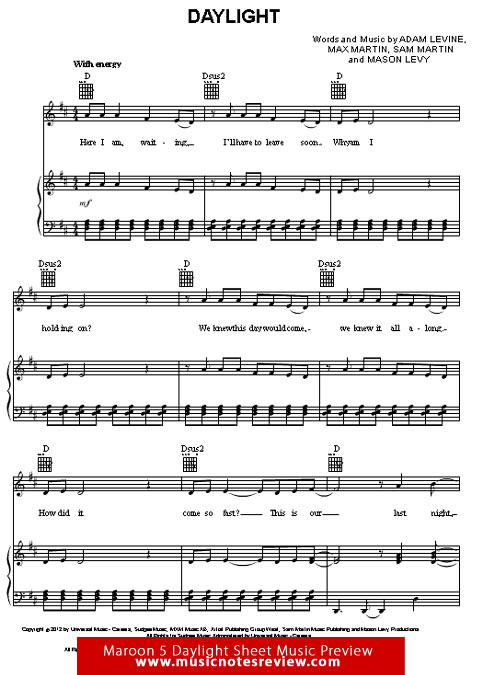 Band Images and Pictorial
Dowload Piano Score and Notes